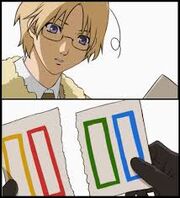 Canada, also known as Matthew Williams, is one of the main protagonists of Hetaoni, described as "Maple Story" in the game. He has more of a role in HetaOni than the anime.
Canada
Biographical Information
Born:
July 1st
Human Name:
Matthew Williams
Phyisical Information
Age:
18-19 years old
Gender:
Male
Hair Colour:
Dark blonde
Eye Colour:
Blue or Purple
Family/Allies
Family/Allies:
Family & Allies
Game Skills
Game Weapons:
Fighting:
Health:
Affiliation
Oni Affiliation:
Enemy
Nation Affiliation:
Loyalty:
Appearances
Live Appearances:
Successful time loops
Dead Appearances:
First time loop, some others
Canada is the main puzzle solver in the game. Like the Hetalia animate and manga, Canada is often ignored by the other countries. His character is hence translucent in the Hetaoni game.
He makes his debut appereance in Chapter 4 where he and Russia are being attacked by Steve in the kitchen of the first floor. You will get defeated in this battle yet Japan comes to your aid for the fourth boss battle.
Weapon: Flashy bow. He purchased it just to emphasize. "I'M HERE!" The bow stand out more than him.
Head: Bandana (Transparent). He doesn't believe a headband is enough.
Body: Eternally Ordinary Clothes. They're just clothes, Nothing unusual about them.
Accessory: Maple Syrup. Trial product to cut back on calories.
In The Game
Edit
Warning: Spoilers begin here. Continue to read at your own risk.
Chapter III The AlliesEdit
The Allies and Canada arrive in front of the mansion in the current time loop. They head in and split up into two groups, with America, Canada, and Russia stay to search the first floor while England, France, and China search the second floor. America, Canada, and Russia talk on the first floor when Steve suddenly shows up and attacks America.
Chapter IV GunshotsEdit
Russia and Canada are fighting Steve in the kitchen when England and China show up. The four fight Steve together, but Steve gives no time for attacks and KOs them instantly. Steve goes towards England and is about to kill him, but Japan shows up and prevents him from doing so. Japan kills Steve in one hit with the Blade of Wrath.
First TimeLoop, his body was shown to lie right besides England's body in a bed
Community content is available under
CC-BY-SA
unless otherwise noted.